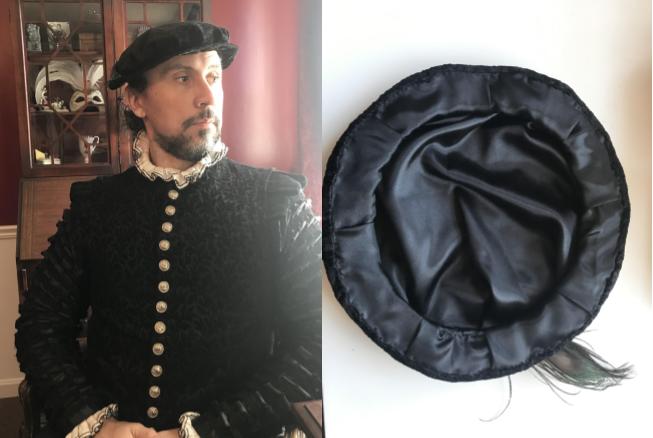 Mistress Elena Hylton, Barony of Carolingia
Wiki page: https://wiki.eastkingdom.org/index.php?title=Elena_Hylton
This hat is a "plague project" – I did it all out of supplies in my stash so I didn't need to order or go to stores in person, as such it uses modern materials. I wanted to make a hat for my lord to complete his 1560s outfit and fortunately I had some leftover cut velvet, canvas, and satin from making that project. I am not a haberdasher so this was something of an adventure.
I looked at a few paintings from period (such as https://denverartmuseum.org/object/TL-18918 ) as my inspiration and made a simple circular brim which I stiffened with glue and canvas. I pleated the top of the cap into the band, stitched it down with back-stitch, then tacked in a satin lining. Finally I rolled the velvet over and stitched it down to cover the raw edges of the canvas and lining.
Overall I am very happy with it, though for my next try I would like to try to learn more about period hat construction.